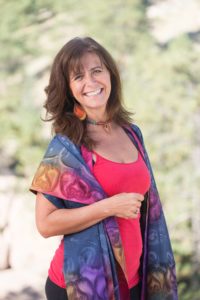 Kimberly Braun, Minister, M.A., Meditation Coach, finds all of life to be a Love affair, and it is through this lens she serves others that they may become all they are meant to be, in particular to come home to themselves through silence.
She served as a Carmelite monastic nun for over 10 years, and is a inspirational speaker, seasoned retreat leader, and Reiki master. She has been featured on TEDx, and is a former faculty at the renowned Omega Institute.
She completed her Masters in theology and seminary training in 2004 at the Washington Theological Union, in Washington D.C.  She also received certification as a Spiritual Director from the esteemed Shalem Institute.
Her personal mission is to inspire others to live from the power and wisdom within themselves. Her keynote presentations and sermons are playful, deeply inquiring, and inspire listeners to access this part of themselves and live from there more consistently.
While she has many 'roles,' the one that remains the same year after year is as a fellow seeker on the path to living freely. She has three CDs and a book available about her time as a nun, Love Calls, Insights of a Former Carmelite Nun.
She three new online courses: 'Standing Strong AND Happy in the Storm,' 'Essence Meditation Made Easy,' and an immersion course into the writings of Teresa of Avila.
Find out more about Kimberly and join her community and explore an ever-growing meditation library, live meditations, monthly webinars, videos, articles and audio commentaries! www.essencetribe.com. Work with Kimberly privately and find out more about her upcoming appearances at  www.kimberlybraun.com.