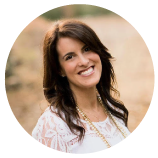 Ali Katz is a meditation teacher, author, motivational speaker, and self-care and mindful parenting coach. She is best known for her brand "Hot Mess to Mindful Mom" which encompasses books, live events, a blog, and a booming online community.
Ali's mission is to inspire mothers worldwide to leave overwhelm, stress, and guilt behind, and to embrace a life full of balance, presence, and joy.
Ali says, "I transformed my life five years ago with meditation and mindfulness, and now I am living my purpose and passion by helping other parents to do the same.
"When I first became a mom I thought I was supposed to be a martyr. I thought that meant I was "doing it right," and somehow acting this way proved my love to my family. What happened though, is that I became exhausted, overwhelmed, and depleted. When I started practicing self-care by meditating and bringing more mindfulness and gratitude into my life, everything changed. I had more love and energy to bring to my family. I stopped wishing for do-overs, and really began to enjoy raising my kids in the moment."
"I love teaching other parents my easy formula for parenting success. Better You = Better Mom. It's really that simple!"
She invites you to visit her website at www.hotmesstomindfulmom.com to learn more, and her six tips for setting yourself up for stress-free weeks. They are life changing!