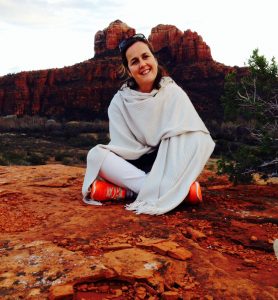 Suzi von Mensenkampff is a meditation teacher based in Ireland and has been teaching meditation for over seven years. As a passionate meditator she is deeply committed to creating meditations to help the people who she feels need it most, especially those students who say they "don't have time" to meditate or those who feel like they are doing it wrong, so stop altogether. As a teacher, Suzi believes to truly succeed in developing a daily practice you begin where you are, without overextending yourself at first.
Keeping the time short and showing up every day is one of the keys to developing a daily practice. As opposed to trying to sit for extended periods feeling uncomfortable or getting bored and then giving up entirely.
Suzi has seen huge benefits in teaching simple techniques that work to people with very busy lives. By successfully learning to stop and sit still every day these people begin to experience the benefits first hand, as they begin to really love how they gain time by stopping the constant doing and taking the time to go in. With this approach, in just a few weeks they naturally want to sit for longer periods which happens at their own pace. This is an important shift for the new meditator.
Her meditation series is called "Starters for the Soul"
This series is an ideal appetiser for beginners or new meditators who feel drawn to take part in this 40-day Feast for the Soul but may feel unsure about their ability to actually practice meditation, and maintain their commitment to 40 days of daily practice. By beginning with the shorter meditations of 5, 10 and 15 mins in this "Starter" series, the new meditator will begin to adjust to sitting for longer periods by gradually increasing the duration of their meditations.
This series will also benefit people who really want to commit to 40 days but may find themselves short on time, as the shorter meditations are still a very effective practice. If you keep showing up for yourself, even if it is for 5 or 10 minutes, it helps you to create the habit of sitting, eyes closed every single day, which is essential when trying to create a twice-daily practice.
With each meditation in the Starters Series the length of the guided meditation and the duration of silence increases, with more and more proven techniques being woven into each of the meditations, guiding the meditator into deeper states of stillness and silence, developing calm awareness.
This series has been created to gradually take you from the turbulence of a busy active mind to a deeper state of peace and calm. At the end of this series, you will have developed a simple easy practice that you can do anytime, anywhere by using some of the techniques that you have learned. Over 40 days you may develop a habit for life that creates peace and calm in your mind and every cell of your body.
Suzi is a Chopra Certified Vedic Educator, teaching Yoga, PSM Meditation and Ayurveda and a Certified McLean Meditation Institute, Meditation and Mindfulness Instructor. She is the European Program Manager and on the faculty of the McLean Meditation Institute and a course advisor with the MMI Meditation Teacher Academy. Suzi is passionate about her dharma to Travel, Teach and Transform lives by taking groups to the foothills of the Himalayas in India and Bhutan for retreats and spiritual adventures every year with her company, Dharmatours.
Contact Suzi:
email: suzi@dharmatour.com
mobile:+353 85 7214170
www.dharmatour.com