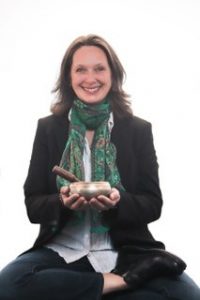 Lisa Campbell is a Meditation and Mindfulness Instructor, a Holistic Health Teacher, a Course Advisor for the McLean Meditation Institute, a US Air Force veteran, and the founder of Mindfulfilled Meditation, LLC.  She's on a mission to bring lasting peace and joy to the world. She teaches meditation and makes sure her classes are experiential, educational, insightful, and fun.
Lisa is a regular guest speaker and presenter on the benefits of meditation and mindfulness teaching in schools, homes, businesses, yoga studios, wellness centers, and at yoga and veteran retreats.  She works with all ages and abilities (especially those dealing with trauma and PTSD) to open hearts through practices of compassion and lovingkindness, and to open minds through practices of meditation and self-inquiry.
A graduate of the McLean Meditation Institute, a Kripalu-certified Holistic Health Teacher, and a Warriors at Ease Trauma-Informed Meditation Teacher, Lisa's heart-mind approach is based in more than 30 years of dedicated spiritual practice and meditation.  She is a loving wife, mother, and doting caretaker of three cats, a hedgehog, guinea pig, and assorted fish and lives in Massachusetts.
Contact Lisa at her website: www.Mindfulfilled.com